So we did it! We arrived a little under an hour before our heat and we registered for our first ever Spartan Sprint 😀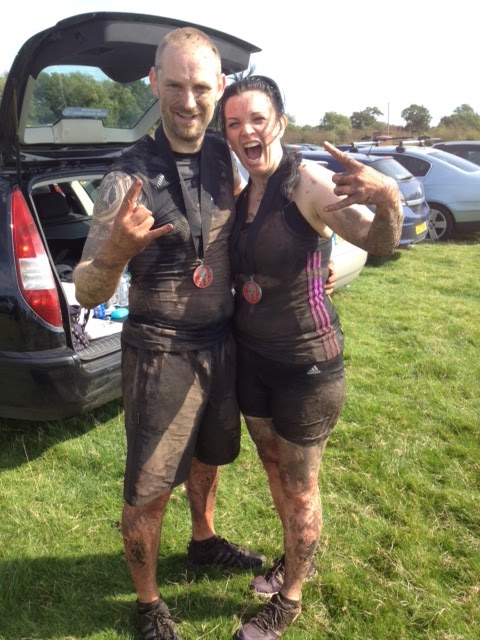 The registration process for the event is a very well oiled machine. With waiver forms in hand all signed and ready to just be handed in, we were given our timing chips to attach to our shoes so that we didn't have to worry about the effects of water/mud and various other substances on HRMs and the like.
Having picked up our timing chip which also acted as our bib and with our numbers inked in indelible ink on our foreheads (for the pictures apparently), we handed in our keys to the key drop and prepared to warm up. And that's when disaster almost struck! I was doing some high knees and I turned over on my ankle. The crack was as though I landed on a twig, but no that was my ankle going crunch. Luckily it wasn't a major sprain just a slight twist and with some quick stretching it seemed to be fine, and what tiny twinges of pain I had dissipated. Had there been instant swelling and bruising, or any pain when I applied body weight onto the ankle, I would have withdrawn from the race. However, there was nothing immediately apparent, and we had another 25 mins before the start of our heat, plenty of time for me to do a self diagnostic as were and check that I was still race fit. Thankfully, all was well. So time to Spartan the f*** up and get to it.
We lined up, amongst likeminded men and women, all ready to tackle whatever the course threw at us. The master of ceremonies took as through what we faced, and for the brave amongst us who were undertaking the Super Spartan they were told they'd have to do the course twice and with a brick on the second time through, 2 tyres instead of one, and 2 sand bags on the carry instead of one. As the course was a double for the super we worked out that we had roughly a 6 to 6.5 Km course to get through. (The Super is over 12km). With the cry of 'What is your profession?' and our obligatory 'Aroo! Aroo! Aroo!' we started over the line and we were off.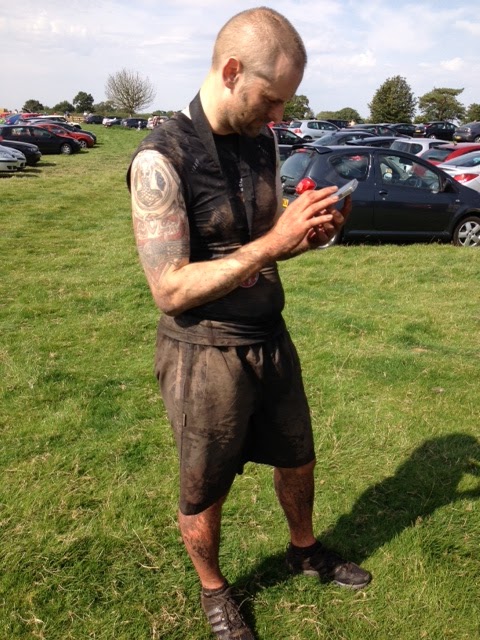 Various obstacles that we faced along the way included balance beams, wading through LOTS of river water (over 2km in water), low walls, high walls, carrying sand bags and tyres, cargo nets, spear throw, crawling through mud, and on one occasion under barbed wire, holding bricks up for a set period of time, rope ladders and all with lots of mud from the previous racers and ourselves. But they saved the most evil obstacles till last. As we turned into the home straight, we were faced with a pit of ice under barbed wire, that we had to crawl through…and it was dyed red! As soon as we come out of the ice pit it was the rope wall, and the surface of the inclined wall is like tarpaulin, so slippery when wet, and muddy. We tried to get up it, my god did we try but alas no, so honour burpees it was. In fact on the entire course I only did 2 x 30 burpees which I was really pleased with. (The spear throw had a rule, 1 throw and if you miss you do burpees…I missed but that's fine, if you recall I'm one of those weird people who like burpees)
Around the 4km mark my knee started to give me some problems, so I'm not out of the woods with the old IT Band syndrome just yet and no doubt my physio will give me a telling off on Wednesday 😉 But damn it this was something I needed to do for me and my great gods did I enjoy it.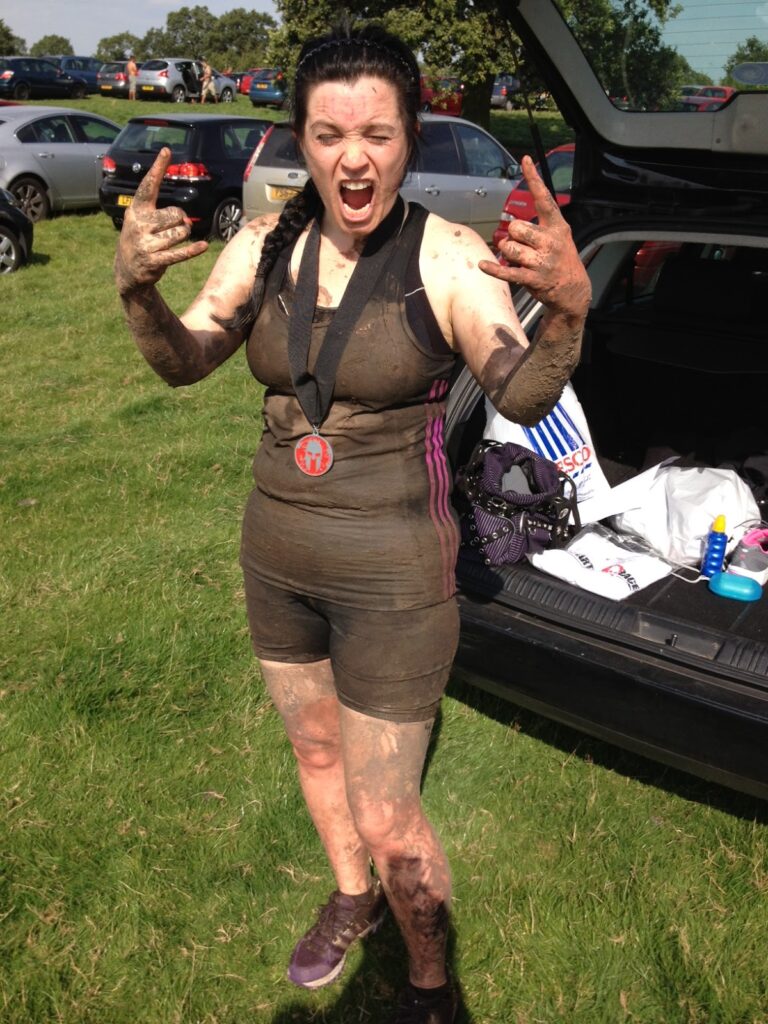 Caked in mud, we finished our race, removed our chips, collected our medals and made our way back to the car to clean off, obviously had to update all social networking site, put civies back on and grab some food. A quick jolly back over to the main arena saw us bump into one of the most inspiring fitness aficionados that I have ever witnessed. Doing a double take and saying to OH 'isn't that Jessie Pavelka?' lo, it was indeed Mr Palvelka in all his chiseled glory, with that dazzling smile. What a thoroughly lovely man, he even obliged me with a photograph. I came away starstruck, utterly starstruck.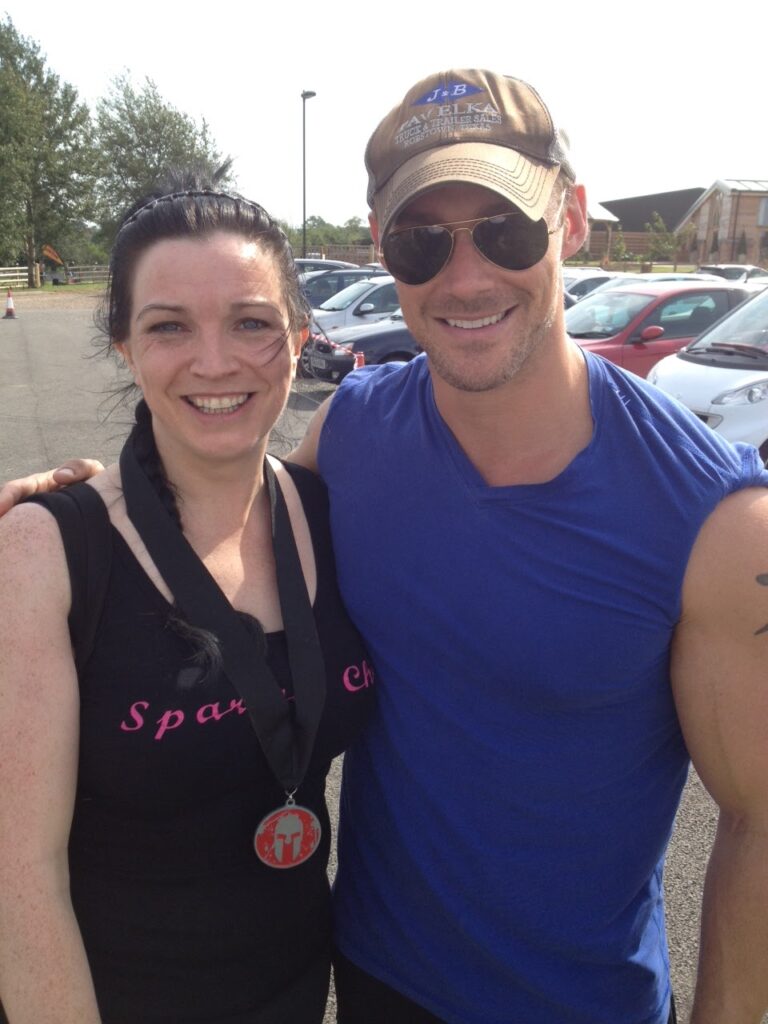 All in all, a bloody good day.
I lost my sparkle, met a fitness idol, had a great day with OH and faced my fear of heights head on scaling that cargo net and high wall. I feel quite accomplished. They say on the blurb that 'You'll know at the finish line' and you now what, you do.  You know that nothing can beat you if you really give it everything you have, and even if you fail at something there will be another way around the problem. What you know at the finish line is that you CAN do it and more, that you are strong in mind, body and spirit and that this community you've found yourself in all believe that and understand it too. You know at the finish line exactly who you are.
So next on the agenda is a visit to my physio and to really work on getting the strength and flexibility back in my IT band, I have a routine to film in pole tomorrow with my class, then I can start training for the Zombie Evacuation run in October,  and after that in 2013 the next sprint and maybe the super, and possibly the beast 😉 Well, why not eh?
As always, be kind to yourself
Much love
Krissie
xx
Officially a Spartan Chick!