Well the parcel arrived on my desk on Monday of this week…. the Insanity has arrived it would seem. *gulp*
In an effort to lose these last 31lbs in weight (yes I have put back on 3lbs in the last 3 weeks. Thankfully I'm still under 13 stone so I'm not too worried and I think it will come back off quicker than it went on…..*fingers crossed*) I've decided to bite the bullet and take up the challenge of 'possibly the hardest workout ever put on DVD'. I like to think that I'm fairly fit for someone who is still classed as overweight, I think I proved it to myself after running a 5k with cramp in 30 mins. But I'm told this Insanity Workout is tougher than tough. If the blurb is anything to go by I'm going to have to 'dig deep'.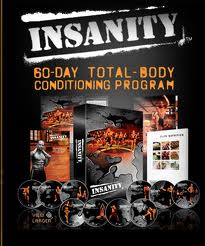 Doing INSANITY is like conquering your own Mount Everest. It's not for everyone. But if you're willing to dig deep, you can take yourself to a level you never knew existed, a level your mind will tell you not to pursue. It happens every time. (from the leaflet included in the set)

I'm curious, very curious. So will this also help me in quelling Pandora on the side of 'you're fat, you're too old'? I damn well hope so as I'm getting fed up of hearing myself whine all the time. Anyhoo, I digress. I noted in my last blog that I found the complete package on Amazon for £45. So what do you get for your money?
From a packaging perspective, it's been well thought out. Encased in an unassuming brown cardboard box that is stamped plainly with INSANITY, and has some blurb on the underside, you open it to find a book of DVDs, a nutrition guide that focuses on complex carbs (brown rice, wholewheat pasta etc) and high protein. Pleasantly the high protein is all sorts of meats and not just fish upon fish. you have a calendar and progress area for your fortnightly fit test. It's well thought out, and if it delivers what it promises then I will be a very happy camper.
So after having watched the fit test I'm about to go and give it a shot. I'm going to have to work the workout days out around the nightmare that is work this month and gig days but I hope by the end of August I'll be reporting that the results are indeed INSANE.
Right, best go get my before pic taken…. and let's do this! Will keep you updated as I go.
Be kind to yourself
Much love
K
x